Sunglow Pier Northside Local Photos
Featured Gallery
---
Latest Uploads
---
Follow this spot and never miss a photo Once followed, photo activity from Sunglow Pier Northside will show up in your activity feed on the local photos homepage.
Featured Local Boardbuilder
Would you like to be a local boardbuilder for this spot? Contact us here
---
Local Shops and Surf Schools
Sunglow Pier Northside Widget
---
Add a Surfline report for Sunglow Pier Northside or North Florida to your website. It's free and easy.
Create A Surf Spot Widget
North Florida

Daytona Beach
North Florida

Sunglow Pier
The next ad will start in
00
seconds
User Timeout Countdown:
Type:
Status:

Unknown
IsRecorded:
Local Time(Hr): , tz:
Off: , On:
Camera Rewind
Embed
?
This report updated Friday, March 23 at 07:33 AM
1.0-2.0 m
- ankle to knee high occ. 3
POOR Conditions
Hey, this is Mike Watson with the report for Friday morning.
NORTH FLORIDA AM REPORT:
Small N windswell/low period NNE swell mix on tap. Most size is the southern half of the region. The surf is smallest for Jax/St. Aug. Winds are NW around 5-10kts and conditions are sideshore bumpy/textured. We are just past low tide which was 6:45am.

NORTH FLORIDA SHORT TERM FORECAST:
Small mix of N windswell/lower period NNE swell is on tap through the day. Standouts are in the waist high range through the day. Winds will shift NNE/NE over the next couple of hours keeping conditions bumpy/textured. High tide is around 12:47pm.

---
By Mike Watson
Atlantic Operations Manager/Lead Forecaster
Meet the Forecast Team
Sorry, there appears to be a problem with the tides for this location
Forecast generated by LOLA. What is LOLA? How is LOLA doing for this spot? Let us know.
Predicted Water Temp by LOLA
at 4:18PM
WATER TEMP:
60-63° F
---
Local Water Quality »
---
Sponsored Link

Best suit for today:
Nearshore Model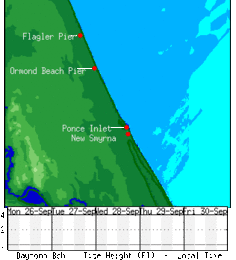 Nearshore Model
---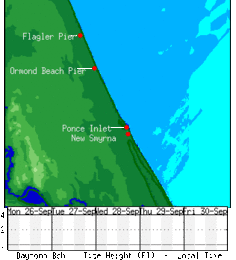 Nearshore Model Animator »
Click images to enlarge
For best spots in the region. Predicted Surf Heights generated by LOLA.
User Photos for
Cocoa Beach Pier
---