Sunglow Pier Local Photos
Latest Uploads
---
Follow this spot and never miss a photo Once followed, photo activity from Sunglow Pier will show up in your activity feed on the local photos homepage.
Featured Local Boardbuilder
Would you like to be a local boardbuilder for this spot? Contact us here
---
Local Shops and Surf Schools
This report updated Wednesday, December 4 at 12:30 PM
1.0-2.0 m
- knee to thigh high occ. 3 ft.
poor to fair Conditions
Hey, this is Katie with the report for Wednesday afternoon.
PM Regional Overview:
Small swell continues for the afternoon with clean conditions. The surf has improved with the lower tide and most spots are seeing waist high sets coming through. Bigger peaks are in the water for the better small wave breaks. Winds are light and variable.

AM Report:
Small swell is in the water this morning with clean conditions. Looking too deep with the high tide for now. Conditions should improve as the tide drops.
Weather: Light/variable winds
---
Sponsored Link
Want to get more waves? The best board for today: NSP Elements SUP
---
Regional Summary: Small ENE/E swell is in the water for the region today. The early high tide could be a problem again for some spots, however conditions will be cleanest early. Winds are light SW early, becoming more SE/SSE in the afternoon.

One year later Sandy is remembered for different reasons. An historic event, the forecast team breaks down the swell generated from the storm here.

The Surfline forecast team is on twitter. Follow us @SLforecast through hurricane season for updates.

Into fishing? Check out Surfline's new sister site for offshore SST charts and more.
By Katie Spagnolo
Atlantic Forecaster
Meet the Forecast Team
GREAT BREAKS HOLIDAY SPECIAL
Two metal prints for the price of one. Take care of everyone on your list with these archival quality photos of the breaks they love.
SHOP NOW >>
Current Surf Heights, Predicted Surf Heights and Predicted Wind generated by LOLA. What is LOLA?
Predicted Water Temp by LOLA
at 7:18PM
WATER TEMP:
59-63° F
---
Local Water Quality »
---
Nearshore Model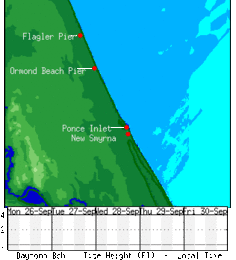 Nearshore Model
---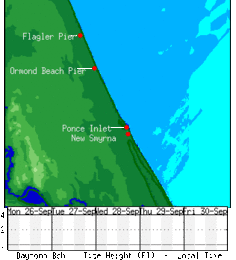 Nearshore Model Animator »
Click images to enlarge
For best spots in the region. Predicted Surf Heights generated by LOLA.
User Photos for
Sunglow Pier
---
How are we doing? Let us know: