Sunglow Pier Local Photos
Featured Photographer
---
Latest Uploads
---
Follow this spot and never miss a photo Once followed, photo activity from Sunglow Pier will show up in your activity feed on the local photos homepage.
Featured Local Boardbuilder
Would you like to be a local boardbuilder for this spot? Contact us here
---
Local Shops and Surf Schools
This report updated Monday, December 9 at 7:10 AM
2.0-3.0 m +
- waist to stomach high
fair Conditions
Hey, this is Kurt with the report for Monday morning.
AM Report:
Mostly clean/glassy ESE trade windswell and ENE swell mix this morning with light winds. Worth a look with the incoming tide push over the next few hours.
Weather: Calm/light offshore trending more SE through the day
---
Sponsored Link
Want to get more waves? The best board for today: McTavish Sumo
---
Regional Summary: Mostly clean ESE trade windswell and ENE swell mix this morning for the region with light winds. Should be fun waves for many breaks over the course of the morning as the tide pushes back in. Expect ESE trade windswell and ENE swell mix to continue for today with SE winds coming up for this afternoon.

One year later Sandy is remembered for different reasons. An historic event, the forecast team breaks down the swell generated from the storm here.

The Surfline forecast team is on twitter. Follow us @SLforecast through hurricane season for updates.

Into fishing? Check out Surfline's new sister site for offshore SST charts and more.
By Kurt Korte
Lead Atlantic Forecaster
Meet the Forecast Team
GIVE THE GIFT OF SURFLINE
A 1-year Surfline Premium Gift Membership is the perfect gift for any surfer this holiday.
LEARN MORE NOW >>
Current Surf Heights, Predicted Surf Heights and Predicted Wind generated by LOLA. What is LOLA?
Predicted Water Temp by LOLA
at 4:27AM
WATER TEMP:
61-66° F
---
Local Water Quality »
---
Nearshore Model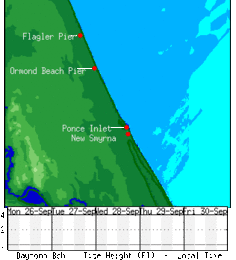 Nearshore Model
---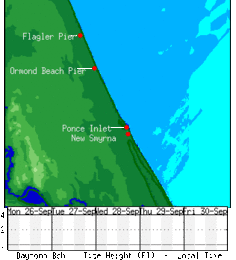 Nearshore Model Animator »
Click images to enlarge
For best spots in the region. Predicted Surf Heights generated by LOLA.
User Photos for
Sunglow Pier
---
How are we doing? Let us know: