North Florida

Ponce Inlet
North Florida

Sunglow Pier North
This report updated Saturday, April 19 at 12:40 PM
3.0-4.0 m +
- waist to shoulder high occ. 5 ft.
fair to good Conditions
Hey, this is Charlie with the report for Saturday afternoon.
PM REGIONAL SUMMARY: Fun ENE swell continues this afternoon with clean conditions for many with SW winds. Some light onshores around Jax but not bumping it up too bad. Coming off high tide but plenty of waves still breaking. Buoys are have only eased a bit so surf should continue. Def worth a look, some sandbars are really looking fun.

AM REPORT:
Mostly clean ENE swell lines with some warble still mixed in. Should be some fun ones mixed in as the tide pushes back in all morning.
Weather: SW 5-10
---
Sponsored Link
Want to get more waves? The best board for today: McTavish Fireball
---
By Charlie Hutcherson
Forecaster
Meet the Forecast Team
SURFLINE STORE POWERED BY
HUNTINGTON SURF & SPORT
Find all the surf gear you need!
SHOP NOW >>
Current Surf Heights, Predicted Surf Heights and Predicted Wind generated by LOLA. What is LOLA?
Predicted Water Temp by LOLA
at 3:14PM
WATER TEMP:
64-69° F
---
Local Water Quality »
---
Nearshore Model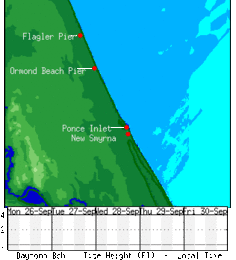 Nearshore Model
---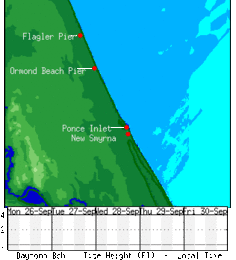 Nearshore Model Animator »
Click images to enlarge
For best spots in the region. Predicted Surf Heights generated by LOLA.
User Photos for
Sunglow Pier
---
How are we doing? Let us know: