North Florida

Ponce Inlet
North Florida

Sunglow Pier North
This report updated Wednesday, April 23 at 1:05 PM
2.0-3.0 m
- knee to waist high
fair Conditions
Hey, this is Katie with the report for Wednesday afternoon.
PM Regional Overview:
Small but fun NE swell leftovers remain in the water for the afternoon with mostly clean conditions. Most spots are still seeing sets in the waist high range, with bigger peaks for the swell magnets. Winds are from the WNW/NW around 9-12kts for Jax northward, with light E/ENE winds south of Jax.

AM Report:
Small NE swell leftovers are in the water this morning with offshore winds and clean conditions.
Weather: W/WSW 4-8kts

Check out Surfline's sister site, FishTrack.com to view the latest fishing reports, editorial and fishing tools to help you catch more fish.
---
Sponsored Link
Want to get more waves? The best board for today: NSP Elements SUP
---
By Katie Spagnolo
Atlantic Forecaster
Meet the Forecast Team
SURFLINE STORE POWERED BY
HUNTINGTON SURF & SPORT
Find all the surf gear you need!
SHOP NOW >>
Current Surf Heights, Predicted Surf Heights and Predicted Wind generated by LOLA. What is LOLA?
Predicted Water Temp by LOLA
at 5:50PM
WATER TEMP:
63-68° F
---
Local Water Quality »
---
Nearshore Model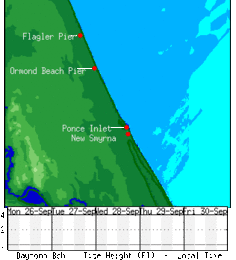 Nearshore Model
---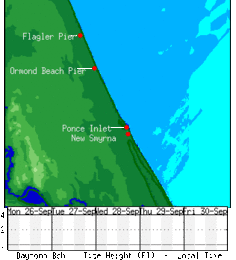 Nearshore Model Animator »
Click images to enlarge
For best spots in the region. Predicted Surf Heights generated by LOLA.
User Photos for
Sunglow Pier
---
How are we doing? Let us know: