Oceanside Harbor Local Photos
Featured Gallery
---
Latest Uploads
---
Follow this spot and never miss a photo Once followed, photo activity from Oceanside Harbor will show up in your activity feed on the local photos homepage.
Best conditions for Oceanside Harbor
Swell Direction:
SSW, SW, W, WNW. Hurricane SSE swells will here. Combo of North and South Hemi swells are best.
Surf Height:
Knee high to a few feet overhead
Wind:
E
Tide:
medium
---
More Break & Travel Info »
Break Map »
Featured Local Boardbuilder
Browse latest shapes
---
Local Shops and Surf Schools
North San Diego

Oceanside Pier NS
South Orange County

Old Man's at San Onofre State Beach
The next ad will start in
00
seconds
User Timeout Countdown:
Type:
Status:

Unknown
IsRecorded:
Local Time(Hr): , tz:
Off: , On:
Camera Rewind
Embed
?
This report updated Saturday, March 28 at 12:20pm
3.0-5.0 m
- waist to head high occ. 6 ft.
poor to fair Conditions
Good afternoon, this is Sherwood with the report for Saturday afternoon.
Afternoon report for North SD: Fun-sized surf on tap this afternoon as rising long-period SSW southern hemi swell combines with some WNW wind/groundswell energy. Chest to shoulder zone waves show for average spots, while top exposures get up around head high to a bit overhead on sets. There's some onshore westerly wind now along with bumpy and textured surface conditions. Shape also looks a bit drained at report time as the tide hits a 0.22' LOW @ 12:24pm.

Short-Term Forecast for North SD: Expect a slight boost in size as the southern hemi swell builds further and the tide begins to fill back in. West wind due the rest of the day, topping out a light+ to moderate levels.

Want to crunch numbers at Surfline? We have an opening for a Staff Accountant. Check out the link here to see if you qualify.
---
Sponsored Link
Want to get more waves? The best board for today: 7S Slipstream
---
By Sherwood Prusso
Weekend Report Coordinator
Meet the Forecast Team
Sorry, there appears to be a problem with the tides for this location
Forecast generated by LOLA. What is LOLA? How is LOLA doing for this spot? Let us know.
Predicted Water Temp by LOLA
at 8:16PM
WATER TEMP:
61-65° F
---
Local Water Quality »
---
Nearshore Model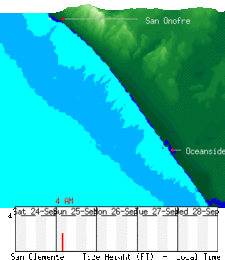 Nearshore Model
---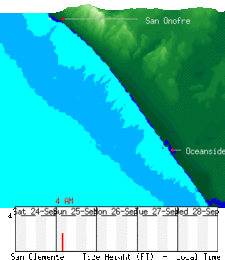 Nearshore Model Animator »
Click images to enlarge
For best spots in the region. Predicted Surf Heights generated by LOLA.
How are we doing? Let us know:

Feedback & Bug Reports