Coast Guard Beach Local Photos
Latest Uploads
---
Follow this spot and never miss a photo Once followed, photo activity from Coast Guard Beach will show up in your activity feed on the local photos homepage.
Best conditions for Coast Guard Beach
Swell Direction:
NE to SE
Surf Height:
Waist - Overhead
Wind:
SW to WNW
Tide:
Low to Medium but depends on the ever shifting sands
---
Break Map »
Featured Local Boardbuilder
Would you like to be a local boardbuilder for this spot? Contact us here
---
Local Shops and Surf Schools
New Hampshire - Maine

Hampton
Cape Cod

Cape Cod
This report updated Saturday, March 28 at 6:45 AM
Hey, this is Katie with the report for Saturday morning.
CAPE COD AM REPORT:
S/SSE swell leftovers and developing NE windswell mix is in the water for the Cape Cod region this morning. Expect plus sized southerly swell leftovers for the S facing breaks on the offshore islands. Winds are from the NE around 7-11kts. High tide is around 7am.

CAPE COD SHORT TERM FORECAST: 
Southerly swell leftovers will slowly ease for the region this afternoon as stronger NE windswell mixes in for Cape Cod. Moderate+ NE/NNE winds are expected for the afternoon. Low tide is around 1:53pm.
---
Sponsored Link
No surf? Check out the entire range of boards from GSI
---
Sorry, there appears to be a problem with the tides for this location
Forecast generated by LOLA. What is LOLA? How is LOLA doing for this spot? Let us know.
Predicted Water Temp by LOLA
at 7:55PM
WATER TEMP:
35-37° F
---
Nearshore Model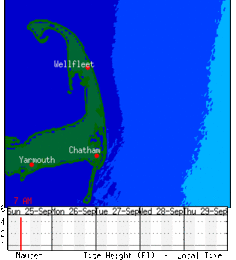 Nearshore Model
---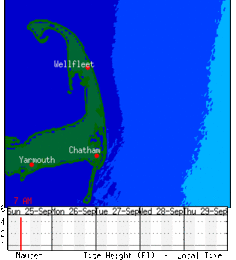 Nearshore Model Animator »
Click images to enlarge
For best spots in the region. Predicted Surf Heights generated by LOLA.
User Photos for
Marconi Beach
---
How are we doing? Let us know:

Feedback & Bug Reports